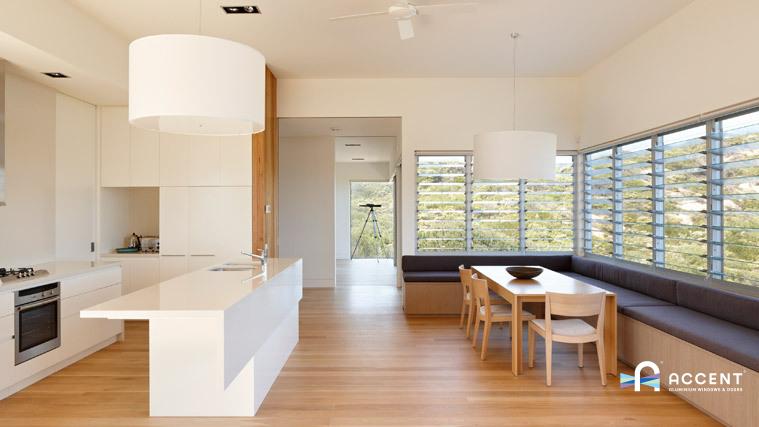 Louvre windows are made of horizontal slats that function as shutters that can be opened and closed. This design actually originated in the Middle Ages and continues to be used in modern homes.
Have you considered louvre windows for your home? You just might after learning about the many benefits of this popular style.
Superior ventilation
A good window should provide your home with ventilation, and no other window does this better than the louvre.
The main purpose of louvres is to let air flow freely into your home. This makes them especially ideal for warmer climates.
Of course, they also seal tightly to keep the wind out when you need to keep your home draught-free.
Uninterrupted view
While louvre windows may look similar to shutter blinds, the key difference is that they're made entirely of glass. This means the view from your window can remain unobstructed from wooden shutters that can only be opened and shut horizontally, or swung out to the side.
If privacy is a concern, you can always add blinds or curtains without permanently compromising the view from your window.
A classic look
Louvre windows have a rich history, but they happen to be a timeless style that just doesn't date. They can add a classic look to any home, no matter how contemporary.
Their distinctly different appearance from other windows also means they add a unique touch to the room. When it comes to decorating, it's the small details that make all the difference. Louvre windows are a fantastic way to think outside the box when building or renovating your home.
Easy to clean
Windows can be a pain to clean, especially since cleaning both sides often involves moving between the inside of your house and outside. This is where the biggest appeal of louvre windows comes in.
As the glass shutters can be easily opened and shut, you can access both sides of the window from the inside of your home— no need to go outside at all! Not to mention the ventilation will help them to dry faster.
Interested in installing louvre windows in your home? Reach out to the Accent team today to inquire about the best options for you.