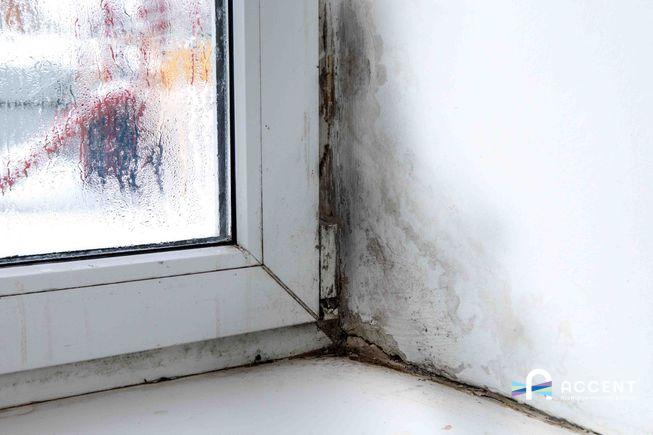 Windows need to be cleaned and taken care of, else, mould will start growing on your window sills. In most homes, mould begins to grow at the bottom of the window between the glass and sash frame. Usually, mould is coloured and easily identified, but sometimes the mould can be the same colour as the window frame, making it difficult to notice. Therefore there could be more mould than what you can see, which can potentially be dangerous to you and your families health. Our window experts at Accent have put together some tips on how to efficiently prevent mould growth and manage any mould that is on your window sills.
Preventing Mould Growth:
Two leading causes of mould build-up is leaking windows and condensation. If you find your window is leaking, then it's important to check the health of your window seals, and if you find they aren't secure then they will need replacing.
As for condensation, you can reduce this by maintaining proper airflow in your home, to do this keep ceiling vents open at all times.
Aside from air-flow, it's essential to regularly clean your windows and home interior. The bedroom and the bathroom are two common places for mould growth, as they build more dust than other rooms. Regularly dust and wipe down these areas to prevent any build-up.
You should also clean the exterior of your home's windows as well. While grime and dust build-up on the inside, it can easily build on the outside as well, as your windows are always exposed to different weather conditions. Cleaning your home's windows on a regular basis will be beneficial to your family and windows health.
Getting Rid Of Mould:
If you've found that there's mould on some of your homes windows, then it's important to clean the area immediately. It is also important to keep yourself safe while doing so:
Before you begin, always put on gloves and a dust mask. You want to make sure you do not ingest the dangerous spores that the mould can release into the air.

Ensure there is adequate ventilation in the room by opening a window or door so the mould spores can escape.

Scrub the mould off the windowsill with a non-abrasive brush and a mixture of one part bleach and three parts warm water- this will loosen the mould, which allows you to easily wipe away

Allow the windowsill to dry completely before you close the window. Wipe off any remaining residue.
What If I can't Remove The Mould?
Overtime if mould isn't cleaned then it can easily rust into your windows, ruining the frame and overall health of your window. If this is the case then its probably time to replace them with a window that offers superior performance in air ventilation. Our windows at Accent Windows seal tightly, so there is less of a chance that mould will build up. So if you find yourself constantly scrubbing your windows inside and out and mould is just not budging, then for the health and safety of your family and home the best solution would be replacing them. With superior performance, custom designs and colours; our team can help you find a window that is low maintenance and stylish.
Feel free to get in touch with our friendly team on 03 9729 4088 or sales@accentwindows.com.au