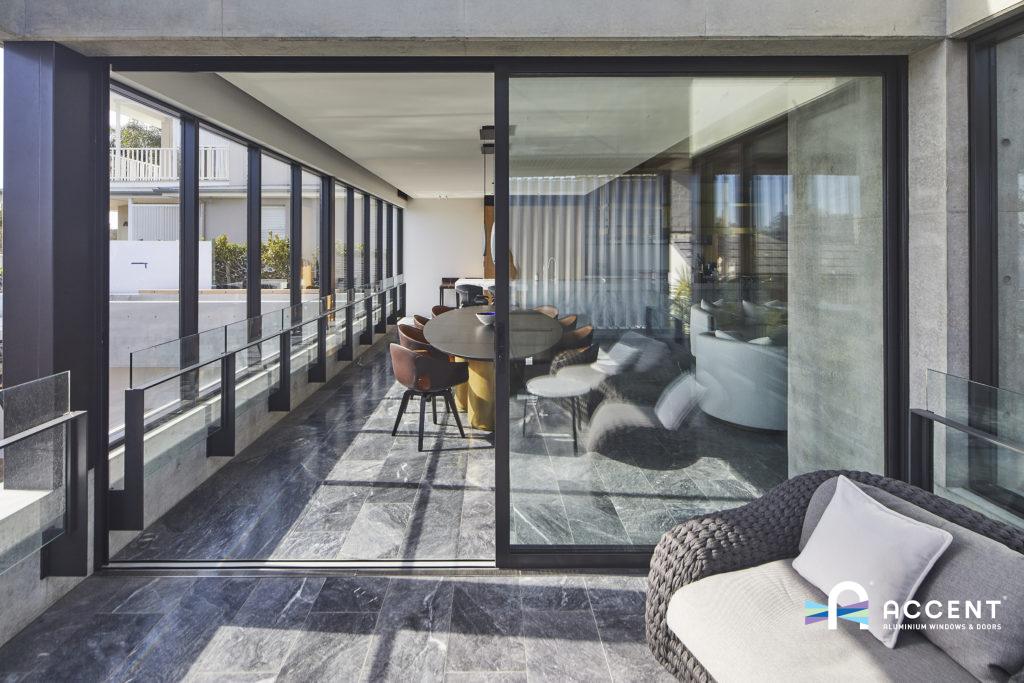 Designed to straddle the water-sensitive divide between the indoor and outdoor spaces, threshold drains have become a focal point in many home designs. They feature a linear stainless-steel drainage system with a concealed channel section for door tracks and thresholds. The linear sits flush against the door-track in alignment with the ground surface. The smooth integrated concealed sub sill collects water and condensation around the doorway, carrying it to an external draining system.
These stunning and practical drains can also integrate seamlessly into sliding doors, bi-fold doors and pivot doors. With its wide range of benefits, and specific design-we are here to tell you why you should be using drains with your doors! So keep reading to find out why you should be using drains with your doors:
Thresholds Add Style:
As the drain integrates elegantly into the door, it offers a low-profile design that is modern and stylish. The narrow-profile stainless steel design matches traditional with contemporary and is versatile enough to meet any doorway and shape. They are available in five different styles of grate design, so it's easy to find one that will suit your taste and needs!
Thresholds are Waterproof Compliant
These drains are designed to convey up to 40 litres of water and can collect any spillage or rain that may occur. The stainless-steel drainage system has a concealed channel section and is attached to door tracks. Due to it's proximity to indoor and outdoor areas, the system will collect any water-fall and condensation, eliminating the built-up of moisture and flooding near the door.
Thresholds Allow For Seamless Entry:
Threshold drains are an increasingly popular design that dissolves barriers between indoor and outdoor spaces. They feature a level-plane design and provide a seamless connection to indoor and outdoor areas. As the drains are integrated into the door-track, the threshold provides a continuous path which eliminates 'tripping' hazards.
Want To Know More?
If you want to know more about sleek contemporary designed threshold range, then it's time to get in contact with our team! At Accent windows, we work closely with manufacturers to ensure that threshold solutions are of the highest quality and fit for purpose. With an extensive range and subsill configurations, Accent Windows can customise a solution for your unique specifications.
Reach out to our professionals today on 03 9729 4088 to learn more about using drains with your doors! Or you can email us on sales@accentwindows.com.au