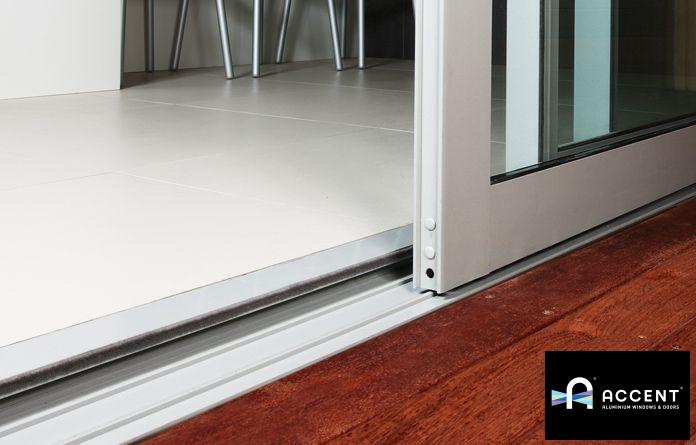 Sliding doors are among some of the most popular options considered by homeowners looking for doors Melbourne builders would be happy to recommend. Sliding doors are simply stylish and durable products that help to brighten up any interior space. If you have been looking for aluminium doors in Melbourne, you may already have thought of how sliding doors could fit your premises. However, like most responsible homeowners, you may have wondered how your new aluminium doors would fit and what tracks they might need.
These specifications are often factored in by the professional window and door installers, like ours at Accent Aluminium Windows. However, we believe it never hurts to keep relevant product knowledge in mind, especially if you are about to make a decision for your new home build. If you need aluminium doors or aluminium windows, remember that we are among the leading manufacturers in Melbourne and are always ready to help with an obligation-free consultation. If you're curious to know more about choosing the right tracks for your aluminium sliding doors, read on.
Important Factors to Consider
Sliding doors feature a popular mechanism that simply has not lost favour among builders and homeowners. Over time, sliding door designs continue to improve, with a number of options to consider when it comes to picking out the right product for your property. With all the options available, we often recommend that our customers consider the following points before deciding on their sliding door tracks:
Door weight
Space that you have available
Security factor
Indoor or Outdoor Use
Do these Doors Open Up to Outside Areas?
Sliding glass doors will be the perfect choice for you if you need your new set of doors to open up to an outdoor area. At Accent Aluminium Windows, we are always happy to recommend aluminium framed doors that are used with a separate track for a flyscreen. These will both slide behind a fixed glass panel and are always a popular choice among our customers due to their style factor. The reason why we would recommend sliding glass doors is simply due to the fact that they will provide a great view of your outdoor areas.
Which Options are Better for the Indoor Spaces?
Cavity doors are often the popular choice that we recommend, for builders or customers who need to consider sliding door tracks for their indoor areas. We can also recommend heavier door tracks for use with flat handles or with specific locking systems. These types of sliding door tracks can make using even heavier types of doors easier and smoother. Whether you are going for a top mounted sliding door track or a more conventional one, you definitely have options to consider.
Accent Aluminium Windows can Help with Your Sliding Doors
Regardless of your needs for a sliding door, you are always welcome to consult with our team of experts. If you need doors and windows Melbourne builders would be happy to recommend, remember to look no further than to Accent Aluminium Windows. We are always happy to provide an obligation-free consultation when you call us on (03) 9729 4088.