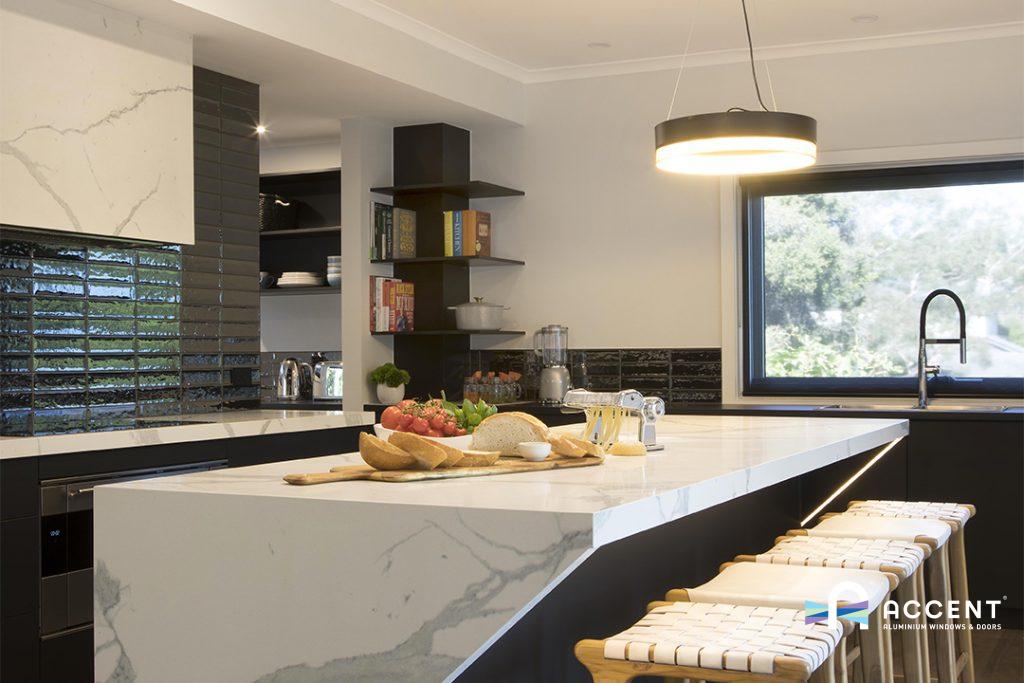 Over the past few weeks, Accent Windows has been helping Shaynna Blaze and her Buying Blind team renovate a series of family homes across Victoria.
This week, we walk you through the special touches we added to this gorgeous property located in Doncaster.
Entry door – Nothing makes a better first impression than a bold, beautiful entranceway. To give this property the cutting edge it was looking for, our team installed a jet black anodised aluminium entry door unit featuring a sidelight, mid rails, a stainless-steel handle and additional dead lock.
Commercial fixed windows – Along both sides of the entry door, we added full-height fixed windows (made with matching black anodised frames) for maximum visibility and style.
Stacker door – Stacker doors that separate the inside from out create a calm sense of space in any home. Installed between the kitchen/dining area and an outdoor deck, this property just became the perfect place to entertain.
Commercial awning windows – To emphasise the space created by our stacker door, we installed large awning windows in the kitchen and pantry, as well as floor-to-ceiling awning windows in bedrooms across the home. Awning windows are a fantastic option for light and ventilation – not to mention the outdoor views!
If you'd like to see how these features could transform your home, contact Accent
Windows for a no-obligation chat today. You can also see what we've added to other homes on Channel Nine's Buying Blind; simply check out our posts featuring renovated homes in Mount Evelyn and Langwarrin.