Coronavirus (COVID-19)
03/04/2020
We trust you all are keeping well.
We continue servicing our customers in a safe, hygienic and healthy environment.
When onsite or sending staff onsite, we ask our staff to assess the risk and take whatever precautions are deemed necessary.
We at Accent take the necessary precautions and to practice social (safe) distancing laws and guidelines whilst on site.
Safe Work Australia has released a fact sheet targeted at minimising exposure to COVID-19 for the Building and Construction Industry.
Please find links to the fact sheets that identify useful and practical strategies for managing employees by reducing their potential exposure to COVID-19.
State Specific COVID-19 information can be found on:
Mental Health Strategy
In dealing with stress or anxiety related to COVID-19, we are likely to see behaviours that are not usual for our teams.
Be kind to yourselves and each other is the message from Worksafe and we also have adopted this and will adhere to the recommendations as per below:
As concerns about the spread of Coronavirus (COVID-19) in Australia increase, we wanted to reach out with a brief update on how the team at Accent are preparing to ensure business as usual remains vibrant and uninterrupted during this time.
As a local manufacturer and service provider, Accent is not likely to be affected by the current situation, we source everything locally, we have strong supply chain partners, we have aluminium stock in our factories for next three to six months, we wanted to provide some insight into how we are working to ensure our customers continue to receive the best service possible.
Our staff in the office and factory are continuing to work as normal during business hours:
Monday to Thursday                     8:00am – 4:30pm
Friday                                              8:00am – 2:30pm
Saturday                                         8:00am – 12:00pm                                                                
Our installation and service team will continue to support our customers with their installations as per their booking schedule, while the General Manager monitors and receives daily reports for any symptoms affecting staff.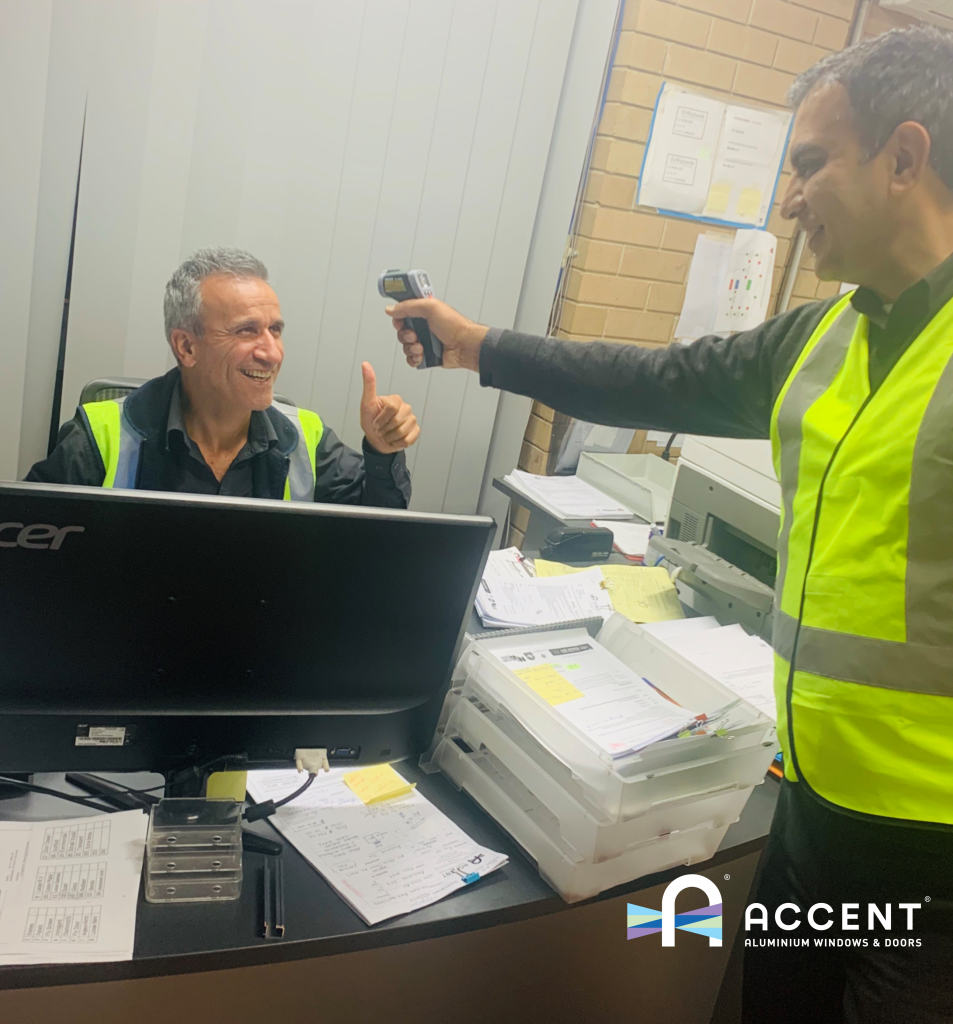 For now we are carrying on with normal business operations, we will continue to support our customers and operate normal business operations from our office while continuing to monitor advice from Government and health officials.
We know that some businesses are currently faced with the challenges of allowing staff to continue to work or not, we have put strong measures and policies in place to ensure our staff are checked daily and clear of Coronavirus symptoms to be able to work, and we want to help our customers to ensure that they have the ability to complete their projects without risk.
The Accent team are committed to taking positive and proactive action during these difficult times.
Kind regards,
Sadi Hamidy
General Manager